Weimaraners that are
"Born to love... Bred to win" 
and now introducing a new venture 
Amdak Acres Miniature Horses
Specializing in pintos.  
Stay tuned for more info coming...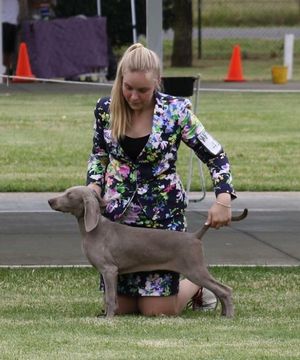 Logan City Council Licence Number: PH/KC/2253
Breeder Supply Number ANI/LICBRE/4758
Breeder of 64 Champions and 9 Grand Champions to date

At Kadma we are serious about producing quality Weimaraners of correct type and superb temperament. As you browse our website you will notice several other breeds apear in our pictures.  We pride ourselves on dogs with stable temperment who can be friends with both big and small breeds. We are also very health conscious. On the whole Weimaraners are a reasonably healthy breed however EVERY breeder should take responsibility to ensure their dogs are certified suitable for breeding prior to being bred. At Kadma ALL our dogs are Hip and Elbow X-ray accredited and we are not ashamed to publish all our dogs' scores for public view.

 
INTRODUCING OUR HANDLING TEAM
Carol Thompson, Aimee Thompson and Kirsten Gowen.
A kennel cannot be truely successful without teamwork and although Kadma Weimaraners is owned by myself Carol Thompson there has been input by many people.
Our handling team consists of my daughter Aimee and Kirsten Gowen who lives in Armadale and has shown many of my dogs through to their titles.  Without their help Kadma Weimaraners would not be one of Australias leading kennels. Many thanks to Emma Hardcastle who takes a lot of the photos on our website and who at times has been known to help out in the ring. Last but not least my ever patient husband Mark who is always around to feed and care for the kids when we are away showing on weekends.
This website was last updated 14/2/17
PLEASE NOTE THAT NO AMOUNT OF SCIENTIFIC SCREENING OF BREEDING STOCK FOR HEREDITARY DEFECTS CAN EVER GUARANTEE THAT PUPPIES WILL BE FREE OF THESE PROBLEMS. HOWEVER BREEDING FROM SOUND PARENTS CERTAINLY INCREASES THE PROBABILITY THAT PUPPIES WILL BE SOUND.



 
Join our list for latest news at Kadma.